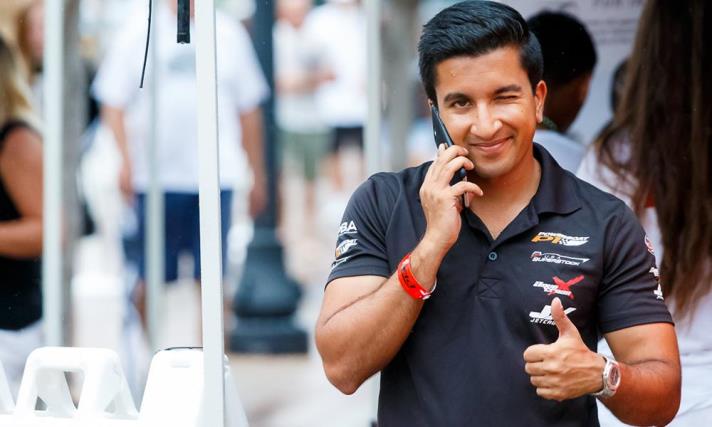 As any business builder will agree, it's tough to make it in the world of business. Even more so when you are young. Challenging this school of thought however, is Azam Rangoonwala who at just 30 years old has been appointed CEO at Powerboat P1.
The global rights-holder for three international water-based events which includes the P1 SuperStock powerboat championship, P1 AquaX personal watercraft championship and the P1 Jetcross stand-up ski racing series, P1 are set to take these dynamic sports to a global audience.
Becoming a CEO at just 30 is no mean feat and it looks like Azam's spirit for business could be in his genes. His father, who invested in P1 some 15 years ago, is also a successful businessman and Azam credits his business skills and drive to succeed to what he learnt from his father.
"My father is what I call a serial entrepreneur. With several successful businesses to his name he has always been extremely determined, and that level of ambition is contagious. I feel extremely lucky to have been brought up around that unwavering drive, and with the lessons he has taught me in building relationships and nurturing a business, I am confident P1 will thrive."
The US racing season kicks off in Miami in April and Azam is now responsible for organising all three series under the P1 umbrella – a challenge he relishes.
Working his way up through the business, Azam went from working on manufacturing boats in North Carolina, to getting involved with the event-side of the championships and establishing a new office base in Orlando, which he ran for several years before finally taking his seat as CEO.
Through his journey to the top, Azam has naturally built up quite the collection of contacts, with the help of his father who has an extensive business background. With these relationships in tow, Azam and the P1 team have successfully established, developed and maintained many high-profile partnerships, including with tourist boards Visit St Pete Clearwater, Visit Jacksonville and Experience Kissimmee – a relationship which is now moving into its third year.
Azam has also successfully secured the P1 AquaX support from the industry's top PWC manufacturers, Yamaha Motor Company, Seadoo, Kawasaki and Ford.
An all hands-on-deck kind of guy, speaking of his appointment as CEO, Azam said: "I am hugely passionate about P1 and am thrilled to bring this exciting, adrenalin-fuelled sport to an even wider audience. My background in the sport, from racing to working at ground level where I set up race courses, makes me perfectly placed, with the support of the team around me, to take the sport to even greater heights."
Despite early days in his role as CEO, Azam has already made great strides towards expanding the P1 business including enlisting the help of a leading PR agency to get the P1 name heard in both the UK and the US.
With a five-year plan in place, Azam's sights are firmly set on the future as he explains: "As the brand continues to grow and garners more and more interest, there is increased opportunity to expand the events into other countries. We are already launching the SuperStock series in Malaysia and I am also in talks to take our events to East Asia."
Website: www.powerboatp1.com