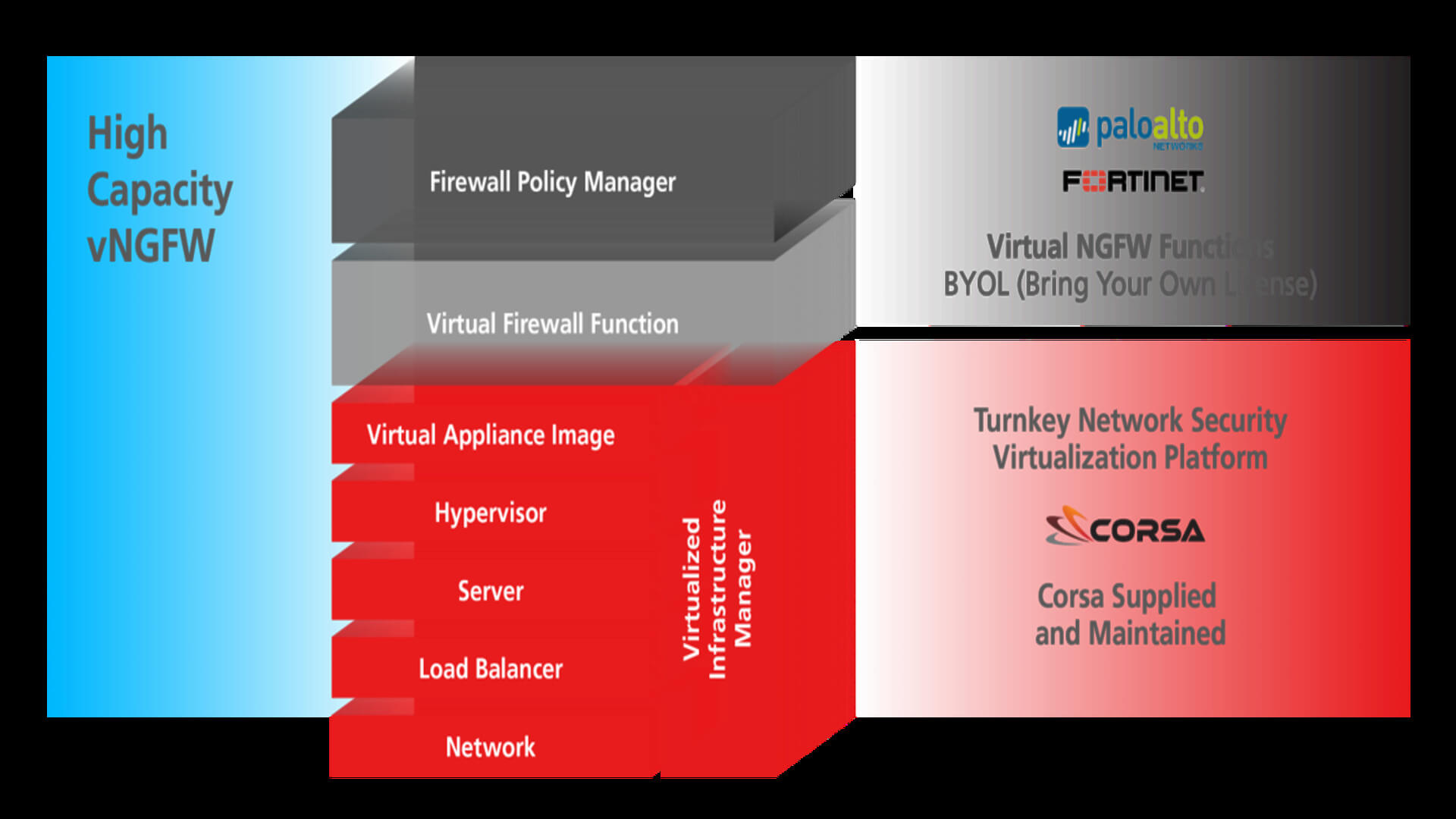 Corsa Security is the first turnkey network security virtualization platform to simplify the process of scaling traffic inspection and automating firewall virtualization. Led by CEO, Eduardo Cervantes, an expert in cybersecurity, cloud and SaaS technologies, Corsa is revolutionizing the way enterprises and service providers protect their security networks in a way suited to the vast amount of data they deal with every day. We put together a profile of Corsa Security to explain how their ground-breaking technology works.
Founded in 2013, Corsa Security is the leader in scaling network security with the first turnkey network security virtualization platform that simplifies how large enterprises and service providers expand traffic inspection, increase threat protection and automate firewall virtualization, at much lower total cost of ownership.
CEO, Eduardo Cervantes, takes companies in promising markets with great ideas that exceed their small size and facilitate their growth organically and through acquisition to quickly generate shareholder value. In particular, Corsa's top security infrastructure enables users to economically scale their threat detection capabilities using visualization and the automation of multiple virtual firewalls. This allows managed Security Providers and Enterprises to quickly and easily deploy security services while reducing DevOps expenditures.
Principal to the success of Corsa has been its recognition of notable failings in the use of virtual firewalls. In an interview, Cervantes explained that increasing the size of firewalls had a minimal impact when dealing with the colossus of data that is only growing, and much of which is encrypted. These firewalls do not have the capacity to decrypt, analyze and re-encrypt the data to be used at the scale required, proving that traditional methods of network safety are no longer sufficient. Instead, the technology needs to be cloud-like and 'elastic', expanding and evolving to suit the needs of the business it is protecting.
Therefore, by tightly integrating virtualization with intelligent orchestration, Corsa streamlines deployment, management and migration of virtualized next generation firewalls (NGFW) for zero-touch network security operations.
This revolution of network safety is the result of customer research and innovation, which has enabled the Corsa team to combine software and networking technologies into one, neat turnkey solution that is scalable and easy to implement, cutting the efforts and costs of typical firewall deployment by up to two thirds. As a result, large enterprises and service providers are able to expand traffic inspection, increase threat protection and automate firewall virtualization through Corsa's easy-to use platform.
In addition, Corsa employs a pay-as-you-go service model, having created a platform that can be bought in one click, deploys quickly and is paid for only when it is needed by subscribing only to the capacity and services required through three year subscriptions. So that customers can avoid buying additional hardware and its associated replacement costs, and therefore deploy and manage security services with great agility and for minimal costs.
The company's mission to assist in scaling up mid-sized companies comes from Cervantes himself, an expert in cybersecurity, cloud and SaaS (Software as a Service) technologies who has served on several Boards of Directors for Security related companies, as well as an advisor for VC and PE funds.
His vast experience in investment banking and operational entrepreneurial expertise has given him the strategic acumen as a CEO required to scale mid-sized organizations into industry leaders, which he has accomplished for zeniths such as ClearPath Technologies, Password Bank and Panda Security. In addition, Cervantes employs carefully strategized methodologies and abilities to bring about successful growth of these organizations and to excited and inspire confidence in investors to successfully raise capital.
Cervantes also takes pride in his ability to recruit and retain world-class talent to all levels of Corsa, recognizing the need for vastly-experienced personnel to bring together networking and software technologies to achieve Corsa's revolutionary solutions. Cervantes therefore takes the process of recruitment very seriously, as he explains,
"I am constantly on the lookout for experienced top talent that can quickly make an impact on the organization. To this end, I participate in several executive forums in the Silicon Valley and other places in North America, Asia and the Middle East, where we have most of our operations. Of course, I also utilize trusted executive recruiters.
"In the selection process I look closely at the candidate's ability to lead, to get things done, to communicate, and their ability to think strategically, analytically and practically. I look for people who are fact and number driven, but with a strong bias to action."
The result is a team of executives who are each focused on the performance of the platform and business as a whole, as well as their own personal responsibilities, by driving the team's KPIs. Each executive is also charged with the development and succession planning of their teams, and are additionally prepped as potential CEO successors, to ensure that there is always deep bench of talent at Corsa.
In a wider context, the culture of Corsa is warm and supportive, yet at the same time driven by facts and numbers so as to produce excellence and an environment in which people strive to be the best. There are metrics and performance measurements at every level of the organization, so that every individual, be they a leading executive or new intern, can see how they are performing and how this contributes to the overall mission of Corsa.
The Corsa team operates on an international scale, with headquarters in Ottawa, Canada that makes the most of the rich, regional networking talent, as well as offices in the US, Spain, Dubai and Delhi, so as to attract more experienced, global technology executive talent.
Operating on such an expansive, global scale also means that Corsa is able to serve a vast network of clients across a variety of roles and sectors. Principally, Corsa serves three types of client: first, Managed Security Providers who use the Corsa platform automation module to quickly and easily deploy firewalls-as-a-service to their customers without the need for DevOps resources. Second, are enterprise network security teams who operate several firewalls to protect different segments of their network. They use the Corsa platform firewall automation module to quickly deploy, upgrade, manage and decommission virtual firewalls without downtime or DevOps expense. Finally, Government agencies and Telecom service providers use the Corsa platform firewall scaling module to keep ahead of criminal activity by surveilling large throughputs of encrypted communications.
Corsa is therefore designed to be beneficial and functional to a broad spectrum of users and as such, is regularly developed and improved to best serve their clients. Moreover, cyber-security as a sector is becoming increasingly saturated, as well as seeing growing fragmentation in the market. The multitude of new companies entering the market with their new innovations and technology set an exciting precedent for the future of cyber-security, yet at the same time create uncertainty for prospective customers who are left overwhelmed by the sheer number of choices on the market.
Corsa is therefore faced with the challenge of making sure they stand out on the market, producing new technologies which leverage networking expertise and virtualization technologies to revolutionize network security in a way that is relevant. Corsa is committed to delivering these technologies with a message that is sharp, unique and consistent, to avoid getting lost in the noise of a busy and promising industry.
For more information, please contact Eduardo Cervantes or visit www.corsa.com