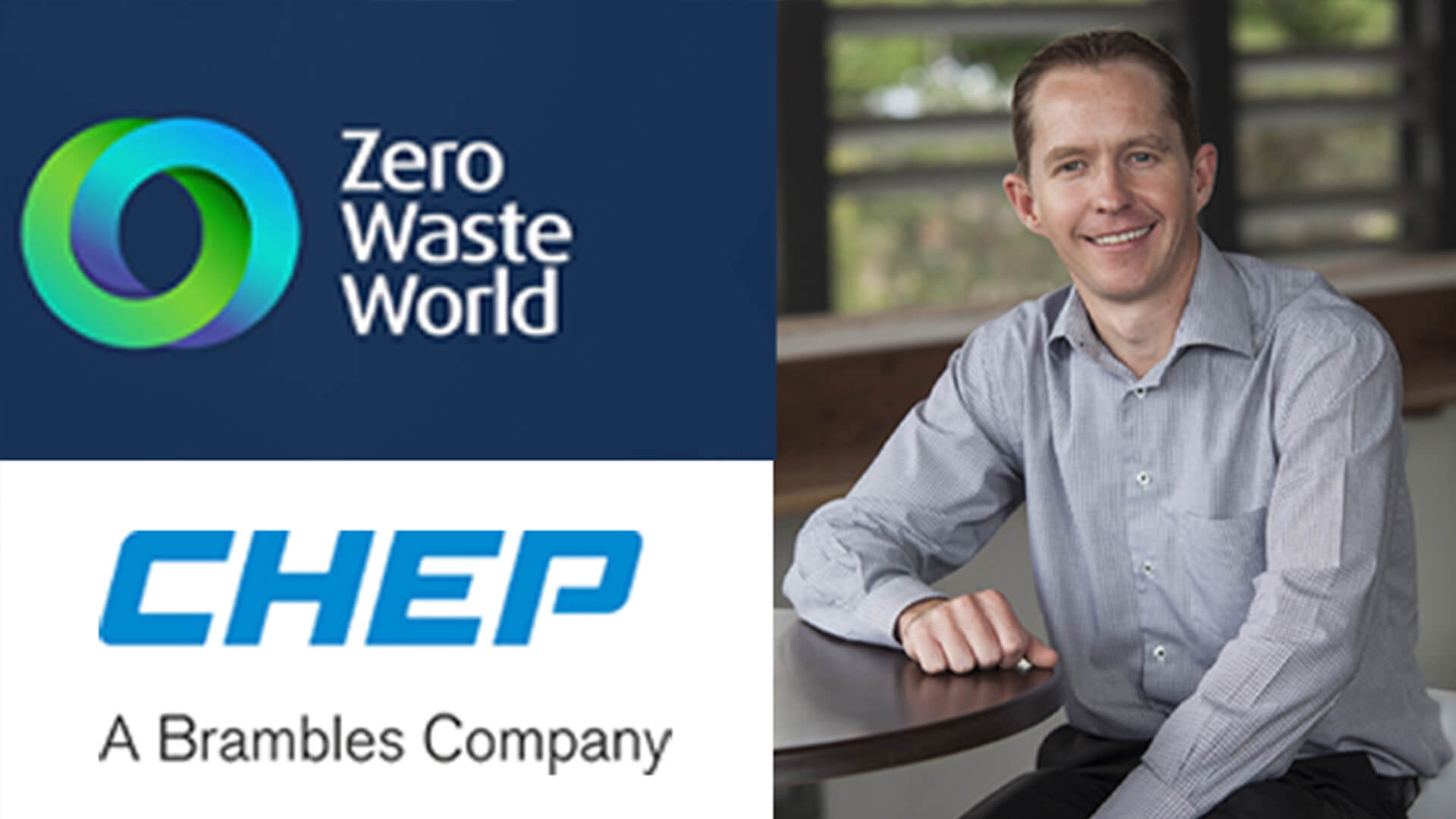 A new initiative to enable greater collaboration between retailers and manufacturers to create smarter, more sustainable supply chains, and respond to consumer concerns, like packaging waste, has been launched in Europe by CHEP, the end to end supply chain specialist in the FMCG and retail marketplace.

The Zero Waste World initiative focuses on three shared challenges within the supply chain:
∙ Eliminating physical waste to tackle global concerns, such as the amount of packaging and food waste;
∙ Eradicating empty transport miles, such as those accumulated by factors such as empty running of freight transport and poor weight loading;
∙ Cutting out inefficiency, covering a range of issues in the supply chain such as product leakage and stock movements.
In Europe, CHEP's Transport Collaboration solutions have already helped more than 200 customers save 6.6 million km of empty truck journeys, avoid 6,500 tonnes of CO2 emissions, and save €8.7 million. In 2017, their circular share and reuse model helped customers save 1.4 million tonnes of waste in FY17. But there is more to do. The development of technology and harnessing innovation with concepts like open data sharing, tracking and smart pallet, and how they can combine, is critical.

Here, CHEP Vice President, Matt Quinn discusses the launch of Zero Waste World and its importance:
Why is now the right time to launch Zero Waste World?
"Manufacturers and retailers have a dual challenge. Consumers want greater choice of products delivered when and where they want. At the same time, society is also demanding that organisations reduce their environmental impact on the world. For example, companies are now under much greater pressure from consumers, employees, investors, and social stakeholders to reduce single-use packaging and unsaleable products – because these issues have an impact on both their bottom line and our shared global resources. The major shift from Linear to Circular business models must take place."

Why is CHEP in a position to be part of leading the conversation on zero waste in the supply chain?
"As a supply chain pioneer with 5,000 customers in the UK and Ireland alone, and 60 years of experience in running the biggest B2B share and re-use model in the world, CHEP has a responsibility to use our expertise to support the supply chain to pursue a circular economy and a zero-waste world.
"We're passionate about building a better supply chain and in using our knowledge, assets and data to advise on minimising unnecessary packaging and container use, we hope to reduce the need to recycle waste."

Why is the UK the best place to launch this?
"The UK is an indicator market, so what takes place here is likely to happen in other places in the world. If we can understand the challenges for the supply chain in the UK and find the solutions, we hold the possibility of reshaping supply chains across the world."

What practical action is CHEP taking to implement Zero Waste World?
"By working with key partners, we'll tackle the three challenges by using knowledge, expertise and our experience in promoting the circular economy. By combining process streamlining and circular design, drastic change of habits to the use of technologies such as Artificial Intelligence, Internet of Things and Blockchain, we can develop game changing initiatives to evolve and revolutionise the supply chain. These technologies provide us with a license to disrupt."

What examples do you have of Zero Waste World in action?
We have created a simple tracker which fits between the slats on a pallet which enables product pickers, delivery drivers and stores to work as normal. But the key innovation is held within software which is connected to our tracker. This is a cloud-based 'network of networks' developed by Brambles company BXB Digital – which allows us to turn data into valuable insights and information about where there is loss, inefficiency, and spoilage in the system. As a result, we can see the pallet destination and avoid the pallet / product loss and subsequent customer claim.
We can also come to data driven conclusions which inform a proactive action plan to recover resources and extend product life in the supply chain. One of our customers who used this technology was NISA Retail. Working together, we identified a 10% pallet loss in their supply chain and planned to cut that to practically nil, potentially saving them millions of pounds in lost revenue and claims. This is a trailblazer and a taste of what is possible as we collaborate with more customers and stakeholders across the supply chain to see what works for them.

How do you make collaboration work in practice?
Leadership in the supply chain is critical. Without leadership and a pioneer making decisions, bringing organisations together driving them towards a Zero Waste World will result in the status quo. Openness, transparency and trust, and willingness to try something different are all critical factors. CHEP has the access, connections and integration across many supply chains and organisations around the world.
Being a neutral partner in the supply chain, we can bring others together, including competitors to achieve their sustainability goals. It's important for companies to focus on mutual value – not just as a buzz word, but as something real where you're trying to create value for multiple companies across the supply chain.
Focusing on trust, sharing data is an important part of understanding where our starting point is for developing initiatives which do things like eradicate empty cargo miles. For example, Joint Management of Inventory requires suppliers, manufacturers and retailers to develop unified inventory and production plans. We are supporting customers to implement this concept where it is the right solution, but without trust between these stakeholders, it would be an impossible task.

What suggestions do you have for businesses looking to adopt collaboration or other sustainability initiatives into their company culture?
Consider the talent within your organisation and who is engaged with the sustainability agenda. Use them as champions to spread the word, get their ideas and support you to gather the wider workforce around the zero-waste culture. Ask them how to collaborate to solve shared challenges. Ask, what is the scale of the packaging waste or transport miles for your business – and what would it be worth to solve this? If the problem is big enough and provides enough opportunities to create value, devise ways to act.