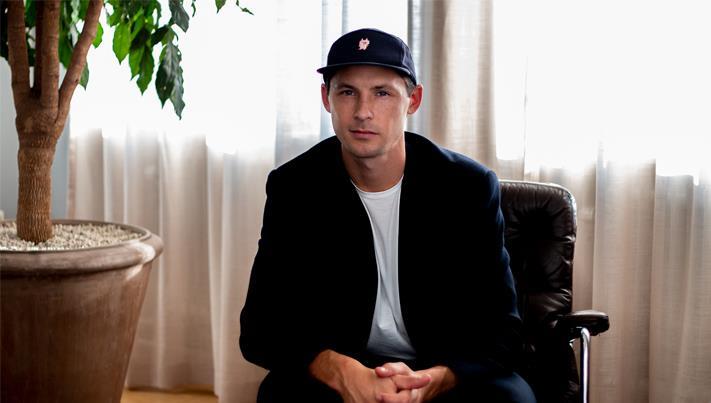 The Footballer Turned Fin Tech CEO
Swedish footballer Philip Haglund used time out of the game when he was injured to create an app to equip the next generation with financial super-skills. Now his company, Gimi, has been named one of the top 250 most promising FinTechs in the world. Alison Brinkworth talks to the CEO about how it came about and what lies ahead.
Philip Haglund has already embarked on a successful career as a professional footballer but it's his FinTech start-up that is setting him the most goals.
The 32-year-old Swede juggles playing as a striker for Swedish team IK Sirius with being CEO of Gimi, the financial application he founded in 2014 that has recently become the first neo-bank in Sweden developed primarily for children.
Stockholm-based Gimi teaches children from the age of seven about the meaning of money through the popular pocket money and chores app. It already has 1.2 million users, predominantly in the Nordics, and in coming months Gimi is officially expanding into other parts of Europe.
That includes the UK, where the app already has almost 40,000 users through word of mouth alone.
Shaking up the digital banking industry further, Gimi this year launched the Gimi Card in Sweden – a special Mastercard for children aged 10 and over, which allows parents to preload money onto a card for their children to spend in stores and online.
It's linked to the Gimi app and enables young people to dip their toe into spending and saving their own money with the safeguard of parents having some control. Over 10,000 Swedish parents have expressed an interest in the Gimi Card for their children and Haglund explains that he is preparing to roll it out to other countries soon starting with Norway and the UK. The plan is to have 3 million active users in the next three years.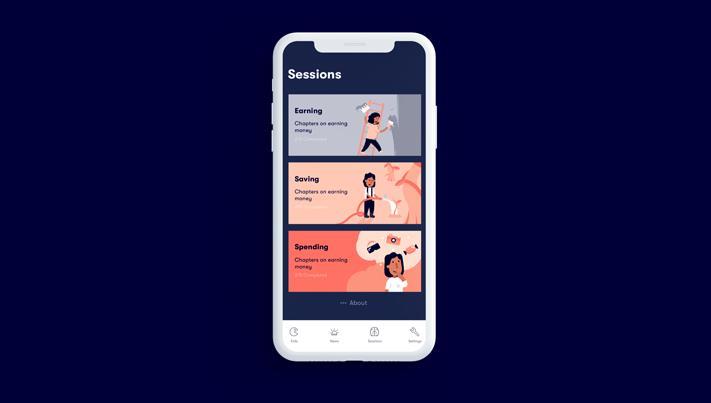 The Gimi app enables young people to dip their toe into spending and saving their own money with the safeguard of parents having some control.
The first ever neo-bank for children in Sweden
The Gimi Card, currently only available in Sweden, makes Gimi the first neo-bank – a special kind of digital bank like Monzo and Atom Bank – that has been developed specifically for children. The card and app helps young people understand basic financial concepts and money management but has also successfully engaged Generation Alpha, born after 2010 and the next generation of bank users, in a way that traditional banking institutions are struggling to do.
Philip Haglund said: "Financial literacy is an important topic worldwide because although schools teach maths and medieval history, knowledge about personal finances is lacking.
"Kids are simply not being taught how to save money, or what a mortgage really means, and these and other blind spots can have devastating consequences for them later in life. Financial illiteracy is one of the biggest social issues facing today's and tomorrow's society and Gimi hopes to address that."
"Fin Techs have emerged because traditional banks aren't changing."
"All banks need to show profitability and it's hard to do that with the youth segment. What I am doing with Gimi is educational and the effect of what I am doing will be seen in 10 years' time when these children have grown up."
Gimi's record over the past five years speaks for itself. In Sweden alone, there are already 500,000 children using the app – the equivalent of one in every five children under 16 in the Scandinavian country. Last year, CBInsights named Gimi in the Top 250 most promising Fin Techs in the world in the digital banking category and it has raised £4.2m from investors including Collector Ventures, financial expert Harald Mix, and iZettle's General Council Oskar Arndt.
It was when Haglund was playing for football team IFK Göteborg that he suffered a serious injury to his cruciate ligament in 2014, which triggered him to come up with the business venture and put the economics skills he learned at university to use.
"I was out of action for nine to 12 months with a bad injury and when I was lying on the sofa, I felt I had lost my identity and couldn't do what I was good at anymore," recalls Haglund.
"So, I looked at the big trends in the market and changes in society over the next five to 10 years. I was reading about the cashless society in Sweden with phone and electronic transfers and thought back to my childhood of running in a shop to buy candy and wondered how that would work with the next generation. How are they going to learn how to handle money and understand finances?"
"I searched for solutions online and couldn't find anything and that's when I got the feeling that I'm the only person in the world that has this idea and if I don't act now, someone else will come up with it."
"I wrote down the functionalities that it ought to have to be an app and called a few Swedish banks to pitch it to them but although they liked the idea, they said no thank you. That's when I decided to create it myself and found freelancers to do code and design it."
Haglund's hunch turned out to be backed up by facts. There are 70% of adults worldwide who are financially illiterate and one in four teenagers are unable to make even simple decisions on everyday spending, according to the Programme for International Student Assessment (PISA) 2015 results, published by the Swiss Journal of Economics and Statistics in 2019.
Haglund adds: "It's hard to do a start-up and every day feels like I'm doing something new. I was taught a lot of theory at university but in reality, you make mistakes and learn from them.
"There are so many different challenges but finding good people to work with is the most important thing. I found a good designer and as the company grew bigger, it attracted more talent. I have great people surrounding me that I can talk to about everything, which is extremely important.
"Looking after a team of people has been the biggest challenge for me. Problems solving app functionality and features are easy compared to how you inspire people and grow your own company – that has been the biggest learning curve for me. Along the way, I read a lot of books about it and talked to more experienced chief executives to hear what they thought."
"What I have learned is that when something you are doing feels wrong for your business, you should do something about it. It always comes down to gut feeling."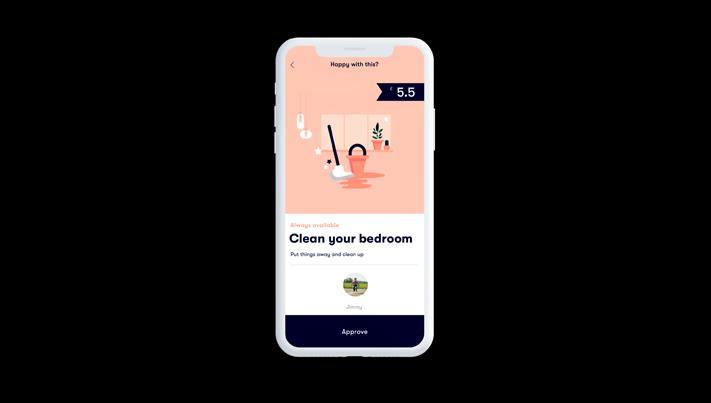 Children can document and log their real-world earnings from pocket money and chores.
Haglund and his team succeeded in creating a virtual piggy bank where children can document and log their real-world earnings from pocket money and chores. Despite the lack of real money, Gimi data was developed with stringent security, protected with 256-bit encryption and never stored on a user's phone, tablet or computer.
It's all about adults using the app with children so if a child registers as a user but does not connect to a parent within seven days, their account and personal data are deleted.
The app, which is free to download and comes in 10 languages and currencies, was developed by talking to children about what they would like and understand.
As a result, Gimi includes a financial advisor chatbot along with introducing children to the ideas of overdrafts and interest rates, teaching them how, in theory, leaving money in a savings account might accrue interest.
It also provides parents with a step-by-step guide on what the recommended allowance for their child should be, and how to raise important talking points such as savings or spending wisely, like having conversations in supermarkets about which toilet paper to choose.
Haglund adds: "People have got into the habit of spending on credit so they can buy now and pay later or buying things on their parents' cards, but that's how many have ended up bankrupt. The consequences of financial illiteracy and parents just handing over their cards are that many 18 to 20-year-olds are not able to pay their bills.
"Gimi has so much more great potential in the coming years as a company and to help solve this social issue."