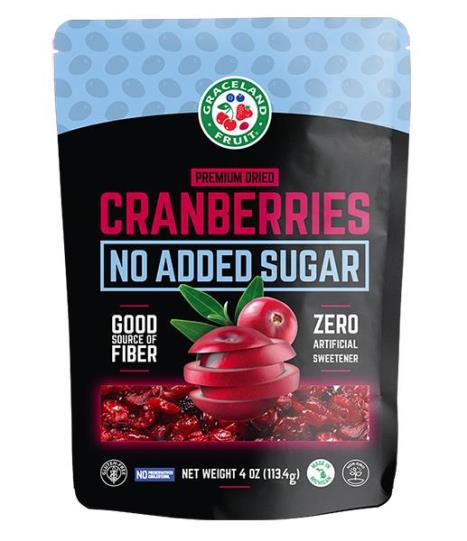 Graceland Fruit has been a leading presence in the dried fruit industry, serving the United States and overseas territories since 1973. In April, CEO Monthly Magazine named Graceland Fruit the Leaders in Food Distribution for the Midwest, in the esteemed 2018 Global Excellence Awards programme. On the back of this well-deserved win, we profiled the company to find out the secrets behind its success.
Located in the midst of the United States' largest, most prominent tart cherry growing region, Graceland Fruit was well placed to nurture its position as one of the largest dried fruit providers around the world. Specialising primarily in native cranberries, cherries, blueberries and apples, their products are organic, gluten-free, allergen-free and Non-GMO, aligning their goals with that of the modern, health-conscious consumer.
Indeed, to go beyond that and to reflect the international consumer base, Graceland's products are Kosher and Halal, adhering to strict criteria for food preparation. In this, Graceland Fruit prides themselves on continual innovation and development, to adapt to the ever-changing needs of the market. Graceland's innovative spark was present in the company's earliest days – in 1988 they developed the world's first commercial infused fruit dryer at their processing plant in Frankfort, Michigan. To this day, they are at the forefront of development in the dried fruit industry.
Perhaps the most important contribution to Graceland's ongoing success is its position as a 'middleman' to numerous supplementary industries. It is, by all regards, a key establishment in the Midwest, manufacturing key ingredients for food production sectors across the region and beyond.
The recognition from CEO Monthly Magazine serves as only the latest addition to Graceland's repertoire, which has, over the years, been acknowledged as one of Michigan's leaders in the manufacturing, production and agricultural sectors. Indeed, in 2003, and on the back of Graceland's growth in foreign markets, they were awarded the highly-prestigious Edward R. Madigan U.S. Agricultural Export Excellence Award. It was, and still is, a testament to the company's chameleonic ability to meet the requirements of overseas markets.
Above all else, Graceland Fruit are proud of the considerate approach they adopt for their work; capturing the natural essence of their products – the inherit 'goodness' – with the care that it deserves. It's a touch that would be archetypal for companies much smaller than Graceland – think artisanal quality – but on a much grander scale. Consumers can rest assured that they are receiving the best products available, from a company that cares about its work.
For Graceland Fruit's dedication to innovation and development, the excellent standard of quality it champions, and its position as one of the largest dried fruit providers in the world, CEO Monthly Magazine named it the Leaders in Fruit Distribution. It's a title that is certainly fitting, and perfectly reflects the expertise that Graceland has honed over three decades of operation.
Company: Graceland Fruit
Address: 1123 Main Street, Frankfort, Michigan, 49635, United States
Website: www.gracelandfruit.com
Telephone: 001 231 352 7181