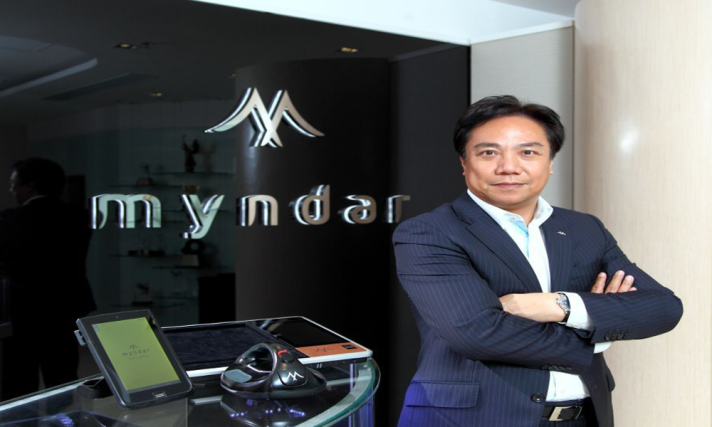 Megasoft Limited, trading as "Myndar", is a leading IoT (Internet of Things) technology company, based in the Hong Kong Science Park. We spoke to its CEO, Dr. Matthew Man, as we look to find out the secrets behind his and the company's success.
Myndar has developed over 90 patented technologies that have been developed specifically for various industries, including the Jewelry & Watches, Critical Logistics and Healthcare markets. The company's disruptive technologies have totally transformed traditional companies into IoT digitalised enterprises, enabling automation to be built into their processes, the usage of cloud based platforms for real-time interactions, and the analysis of big data to enable better decision making.
Boasting a global presence, Myndar is truly an international company with established offices all over the globe including offices in New York, Singapore, Malaysia, Thailand, China, USA and Europe. The firm's vision is to be a local innovator with a global market reach.
As Founder, President and CEO of Megasoft, Dr. Man has a variety of responsibilities, all of which are divided into four major areas; Sales & Marketing, Research & Development, Corporate Finance/Investment and Product Design and Manufacturing. Dr. Man explains more about his role as CEO as well as his leadership style.
"In my role as CEO, I strongly believe that the company needs to innovate constantly to stay ahead of the market and make our competition become irrelevant. By practicing the "Blue Ocean" strategy into our business development and innovations, I have cultivated an internal culture of Dare to Win throughout our organisation.
"Creating an open and honest culture, I encourage my staff to take risks, to try new ideas, new tools and new technologies that are changing and evolving every day. I accept that there are bound to be mistakes and a learning curve with any new ideas, but we have a high tolerance towards mistakes, as long as staff use these as learning opportunities and make good progress, transforming an idea into an authentic, original and innovative project that has great potential. Creativity and Productivity are one of the key performance indicators to measure individual performance. As far as I am concerned, we cannot rest on our laurels. If staff are not taking risks or trying something new then they are not innovating. There are huge opportunities for staff to push past their boundaries and grow as individuals and expand their professional knowledge; this not only benefits them personally but also benefits the company as well. As a leader, it is my responsibility to provide a safe and secure environment for staff to grow professionally by being comfortable to take risks, to try new things and to develop new technologies."
Having alluded to the open and honest culture amongst staff, Dr. Man discusses which aspects of his business really impress clients. He is always monitoring trends and other situations, believing his company's ability to differentiate itself from its competition and stay ahead of potential developments as key factors in its success. Dr. Man believes that strong leadership is vital to a successful company.
"Keeping up to date with developments, I talk to my senior staff every day whenever I can, and closely monitor the progress of our Research and Development. I am very much a hands-on leader and love to engage with our customers to understand their needs and requirements, and ensure the quality and innovation of our products are meeting their demands. As a lifelong learner, I enjoy attending conferences worldwide to stay abreast of market trends and to gain insights into technologies for the future.
"Essentially, I strongly believe that in order for our company to be able to survive and grow requires strong leadership with a clear vision and mission. We are constantly looking for new ideas and new solutions to address the business problems and needs for our existing and future potential customers.
"Thinking outside the box and being a "Dare to Win" company, we always impress our customers with our new innovations, which brings us job satisfaction, professional recognition and financial reward."
In the eyes of Dr. Man, another of the major attributes which makes him a strong leader is his innovative nature. He believes that gaining a true understanding of the client's requirements and expectations, and staff putting his ethos into practice has contributed to the success of both himself as CEO and Myndar as a company.
"Quite simply, I think the key to mine and the company's success is innovation. One of our key attributes is the ability to put ourselves into our customer's shoes, and to gain an in-depth understanding of our customer's problems and their vision. Other qualities we possess as a company include the capability to deliver a product or a solution beyond our customer's expectations and imagination. Lastly, we aim to provide excellent service and support; to lead by example; and importantly, to work extremely hard but always celebrate each success."
Innovation, openness and honesty are all characteristics of a CEO at the top of the industry. Dr. Man, however, is also willing to take risks if it means finding the best result and producing the best outcome. He acts instinctively, placing a focus on taking a chance rather than analysing and thinking and importantly he is never afraid of failure. The ability of Myndar and Dr. Man to constantly innovate helps to make the competition become irrelevant, alongside the ethos of staff and management to never stop learning and never give up.
With regard to people looking to make a successful career similar to his own, Dr. Man provides us with some advice that he would give to someone looking to be a CEO in any industry.
"Importantly, a person must take a realistic look at the demands there will be on themselves and the personal sacrifices they will need to make in order to start, grow and sustain a business. You will need to be a strong leader with a clear vision and goal, plus possess a tenacious attitude to never give up through difficult times. You need to be able to inspire people, to fight for your team, to earn respect and to build loyalties. It is important to have a good team with you and to reward them whenever you can, to celebrate each success along the way."
Lastly, in his concluding comments, Dr. Man is happy to tell us about the plans ahead for both himself and the company, as he predicts exciting times ahead for Myndar, hinting at expansion and huge potential growth amongst the industry.
"Ultimately, we are planning for IPO to be listed in Hong Kong in 2020. We want to expand our products and solutions worldwide and to build "Myndar" as international brand globally."
Contact: Fiona Chan
Address: Unit 301-302,3/F, Building 12W, No. 12 Science Park, West Avenue, Hong Kong Science Park, Shatin, New Territories, Hong Kong
Phone: 0852 3999 4389
Website: www.myndar.com