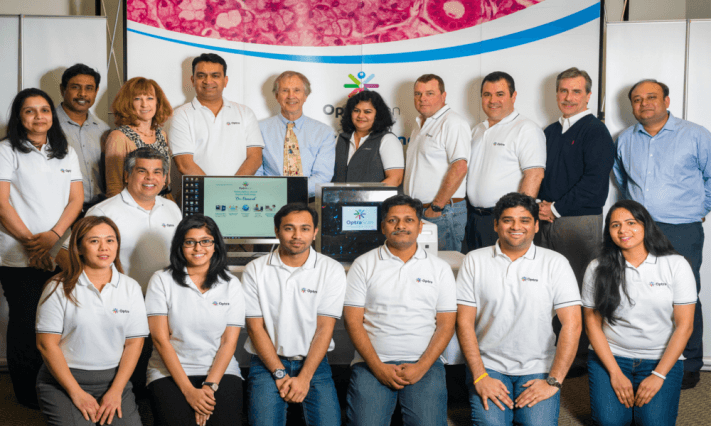 OptraSCAN is a new age Digital Pathology system replacing Microscope which is a 150-year-old invention. Founder and CEO Abhi Gholap tells us a bit more about the new, intelligent system.
Replacing Microscope, OptraSCAN is an intelligent microscopy with cloud interfacing. The product is the world's first On-Demand Digital Pathology system and is useful in cancer diagnostics, and research on infectious diseases and inflammatory diseases. Abhi describes his responsibilities as CEO, going into detail about his leadership style and how this benefits the company.
"As a founder-CEO, my responsibilities include wearing many different hats. Right from product conceptualization that I did in 2014, to creating prototypes in 2015, all the way through to hiring the right talents and delegating them my responsibilities. Furthermore, I also have to take on the role of raising funds from various Venture Capitalists. Now that the company has grown into a mid-size venture, my responsibilities are around Corporate Governance, Sales management, Overseeing Technology and Operations, contributing product R&D and innovations, Financial and Legal liaison and looking for inorganic growth opportunities in the market.
"Additionally, I believe that the leadership style of every entrepreneur-CEO is always product innovation based. You take an example of great personalities like Steve Jobs or Bill Gates to Jeff Bezos to Elon Musk to Mark Zuckerberg. We are CEOs by virtue of our leadership skills, but our main focus and passion is around our product, its market acceptance, disruptive approaches, and the opportunity to learn. We do not see any issues in delegating and empowering our colleagues and subordinates. Sometimes, product passion makes us very restless and workaholic. I firmly believe in choosing better employees than me and empowering them."
Following on from the various roles he has undertaken since becoming CEO of OptraSCAN, Abhi comments on what he believes has been the key to his success, as he further enlists the key attributes that have helped shape the success of the company and has seen him recognised as part of CEO of the Year 2017.
"Essentially, I think the key to my success is probably that I feel I am not successful yet. Subsequently, I still keep on looking for ways to better myself, learn from others, try hard and put in my best possible efforts. On various platforms, I get asked this question and I sincerely feel that world is changing so rapidly, if you sit idle even for few hours and months, you will be wiped off from the radar of others."
Thus, one needs to continuously learn new things and think how to apply those to their area of specialization. My background is in Lifescience and Healthcare but when I got an opportunity to invest into entertainment/ media venture, I could make that successful by identifying right talent and providing them assertive leadership with a sleeves up attitude.
"Being selected as part of the CEO of 2017 is a wonderful feeling. A few years back, I won a national award at the hands of the President of India. Last year, I was nominated among 50 successful entrepreneurs in United States. I certainly feel that being named as CEO of 2017 is the greatest moment in my life."
Walking us through his career milestones, Abhi touches base on his education, his first role in the industry and how his career roles have led to him becoming CEO of OptraSCAN.
"Starting out, I did my education in BioMedical Engineering from Indian Institute of Technology, Bombay. It is one of the premium institutions, equivalent to MIT/ Harvard of United States. But later, I was fortunate to become an alumnus of Stanford Business School when I completed my executive degree in Management.
"As a biomedical engineer, my areas of specialization were mainly medical devices, biomedical informatics and Computer aided diagnostics systems. After spending a few years in Siemens Medical Systems, I ventured into my first start-up in Silicon Valley, California. I learnt a lot in this venture where not only we acquired two other startups but also raised up to $25mn in VC funds. I authored 11 patents and as CTO, I got credited for the world's first Digital Diagnostics System using Medical Imaging. Later, we got acquired for $100mn by Roche Diagnostics."
Regarding the culture with the company, Abhi explains how the working environment is a happy one and contributes to the success of the company. He talks about the innovative nature of the firm, and how there is always an open book with how the company moves forward. Customer service is placed at the forefront of staff's working role, and Abhi goes on to talk about how he manages staff.
"OptraSCAN has a culture of Innovation. We are constantly striving for betterment of product, lowering costs and improving customer experience. Our team is very innovative and dedicated in achieving milestones. Discussing and planning roadmaps ahead helps our staff to understand company plans and thus expectations. Further defining KRAs make this performance measurement, extremely quantifiable.
"Working with staff, I give lot of importance to attitude and aptitude. I value attitude as the basic necessity to work with me. OptraSCAN's ecosystem heavily relies on our staff who are motivated to help other colleagues in addition to performing themselves. If a person has a positive attitude, even if they make errors or blunders, we together can walk through the consequences. That helps our staff to learn their mistakes and how to avoid or resolve for the future too."
In his concluding comments, Abhi tells us what advice he would give to someone looking to make a success of their career similar to his own. Preaching a never give up attitude, perseverance has clearly helped Abhi be as successful as he is today. He signs off by predicting what the future holds for both himself and OptraSCAN, as well as telling us what plans and projects there may be for the firm.
"Do not give up until you really get convinced that your aspirations are no more important for yourself. Till you keep trying to achieve your dream, you will never lose, even if it is sometimes perceived otherwise. 100% guarantee of success till you are persistent!
"Moving forwards, OptraSCAN promises to replace microscope in every pathology lab, hospital, clinic, research facility through our Digital Pathology systems. Our cost offerings are 1/10th of the market competitors and business model makes it convenient to adopt. Over last 20 years, only 15% of the pathologists started using Digital systems whereas OptraSCAN promises 75% market penetration by 2020. That's why the world's richest doctor, a biotech billionaire, Dr. Patrick Soon-shiong invested in OptraSCAN recently."
Company: OptraSCAN, Inc
Contact: Abhi Gholap
Contact Email: [email protected]
Address: 503 Lakeside Drive, Ste 210, Sunnyvale, California, 94085, USA
Phone: 001 408 564 9091
Website: www.optrascan.com