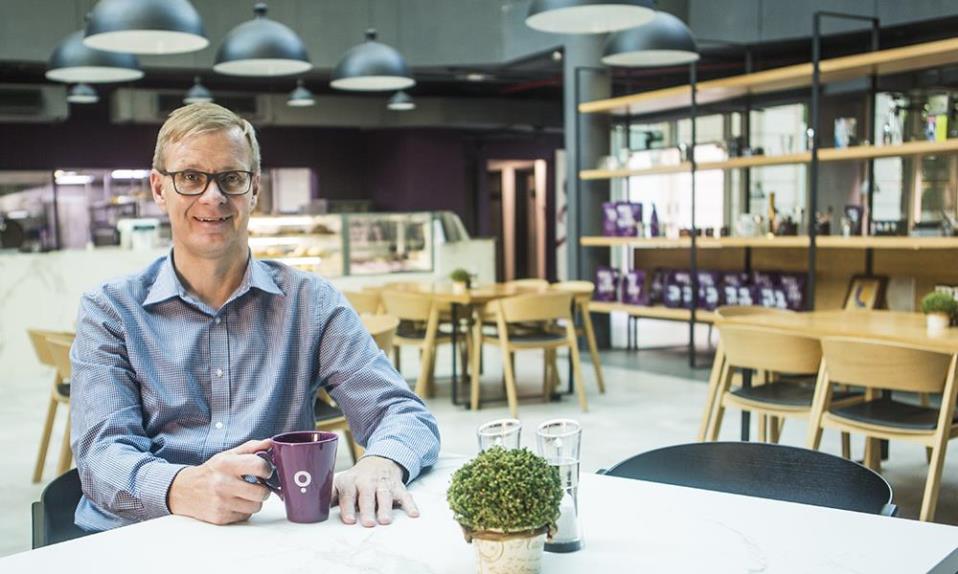 Intelligent Foods and More Café was established in 2000 and 2002 respectively, the current CEO James Le Gassick has created a taste of home in the United Arab Emirates. In early July, CEO Monthly Magazine named James the CEO of the Year in the UAE, as part of our ongoing, and coveted, 2018 awards programme. Eager to find out how he has driven his businesses we spoke to James to find out more about his appetite to succeed.
Drawing on his decades of experience in hospitality and leisure services, James has spearheaded the development of two companies in an environment where other ambitious leaders have, historically, fought hard to establish one. Intelligent Foods opened its doors two years prior to More Café, and is dedicated to manufacturing & supplying luxury hotels, airlines, restaurants and cafes with artisanal products within the Gulf Cooperation Council (GCC). Manufacturing & supplying products such as coffee, pasta, dressings, breads and ice cream, Intelligent Foods has made a name for itself as one of the premier suppliers in the area, with a dedication towards perfection and client collaboration.
Intelligent Foods role as manufacturer supplier extends to another of James' operations, More Café. Exposing Middle East clientele to authentic European fare, More Café advocates a traditional café culture, to create a relaxed and welcoming environment. Equally, with a menu that features 65 dishes, representing Fifteen different countries, there is something for everyone, regardless of dietary restrictions.
To start, we asked James what advice he would give to someone wanting to emulate his career success, "One of the key elements to my success to date is to treat every role that I have worked in as if it was my company, this really makes you think outside the box, gives motivation and ownership, which also helps when motivating a team. I am a hard task master that always encourages out-of-the-box thinking and creativity in everything we do as every day the market changes so change is inevitable."
"Some advice I would give someone wanting to succeed would be work hard, don't follow the crowd, think outside the box, and have the tenacity to do more than what the job requires."
James continued, detailing the roles he has had over his career, "My first full-time role over 30 years ago was in the UK Motorway services where I worked in the kitchens, as well as the restaurant, and worked my way up through the ranks to open the Maidstone service area on the M20 in Kent UK, becoming the youngest ever General Manager at the age of 26. Since then, I have continued my food and beverage career running multi-site operations with Rank Group and JD Wetherspoons before moving to the Middle East in 2008. Since arriving in the region, I have managed over 20 franchise concepts and opened over 50 F&B outlets and created a number of new concepts that we have franchised across the region."
"Our culture is fast paced, and teams are encouraged to take ownership, we listen and action upon feedback from the teams and value every position and clearly communicate expectations."
Finally, James had the time to talk us through what Intelligent Foods and More Café have in store for the future, "We are focused on expanding throughout the GCC over the short term, but also are targeting growth outside the region and have a plan to bring one or two of the brands to the UK and South-East Asia."
Contact: James Le Gassick
Company: More Café / Intelligent Foods,
Address: Al Murooj Complex, DIFC Area, Dubai, U.A.E.
Web Address: www.intelligentfoods.ae & www.more-cafe.com