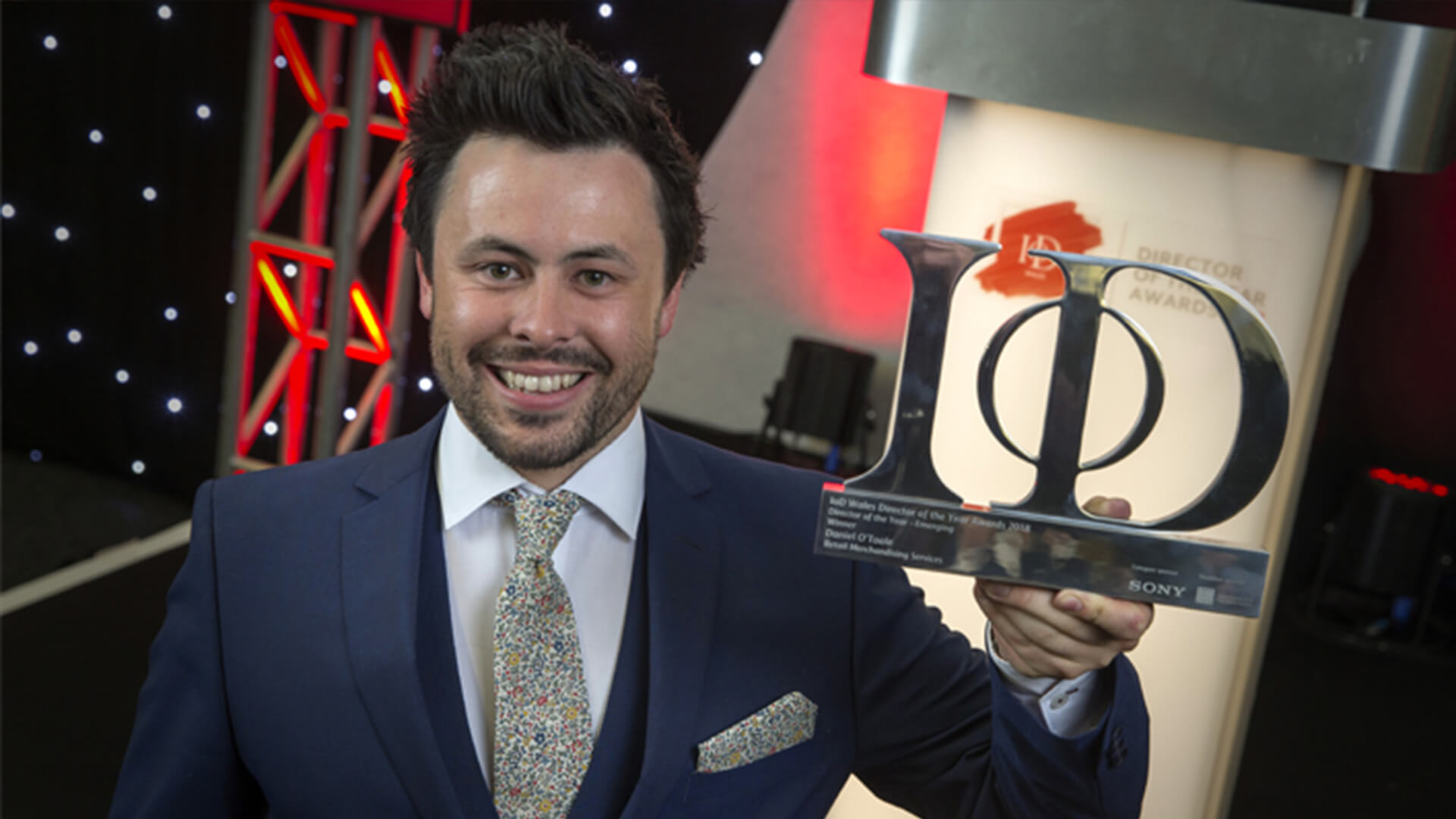 Founded in 2005 by visionary retail expert Peter O'Toole, RMS has consistently grown year on year to become one of the country's leading merchandising companies for many of the top retailers throughout the United Kingdom. Following the passing of the baton to son Daniel O'Toole, discover his journey to become the UK's leading CEO for 2019.
Almost fifteen years after the firm's initial formation, RMS has come a long way under the sage leadership of both father and son, Peter and Daniel O'Toole. Following his father's death in 2015, Daniel's appointment as CEO has seen him go on to secure his father's legacy and cement his own place amongst the very best CEOs in the United Kingdom today. Making significant progress, securing big-money clients and driving the business forward, the story of this family business is fascinating.
Working with some of the UK's biggest retailers such as Tesco, Sainsbury's, ASDA, John Lewis, Boots, B&Q, Argos, Waitrose and Wilko to name just a few, RMS are fulfilling their potential to be the retail change partner of choice Experts in the retail industry, the leadership team's unrivalled knowledge, passion for the industry, and cuttingedge technology has firmly established them as more than capable of delivering industryleading services.
Daniel's story of growth from loving son to inspiring leader is the exemplification of how RMS works, their people and growing talent from within. Upon his appointment to CEO in late 2015, Daniel was thrust into a brand new world of executive leadership in which he had previously experienced very little. However, being a family firm, the choice was logical, and has since proved to be the right one.
Regardless of his lack of experience in retail and the fact he was now responsible for a large company that had exciting future prospects, Daniel delivered. Not just for the firm, but for his father as well. Peter always worked hard to grow the business, and Daniel has made that happen as CEO. Between 2015 and 2017, RMS went from 100 to 500 employees in the field, as well as almost doubling turnover from £8m to £15m.
The expertise and experience of the leadership team around Daniel at RMS cannot be overstated. Despite the challenges that lay before the firm following the tragic passing of founder Peter O'Toole, both sons Daniel and Connah have truly stepped up and delivered the company into a period of great prosperity and success. Alongside a management some team of twenty experts, the team leaders and all the flexible merchandisers at RMS boast a combined 3,000 plus years of retail experience.
Since becoming CEO, Daniel has successfully managed to get his entire team to buy into a new culture and new business model with a refined strategy and core company values. With such a wealth of experience and knowledge around him, Daniel felt it key that RMS management staff were engaged and empowered to not fear failure or innovation, instead seeking out opportunity to influence the direction of the business.
Partners of the firm had such faith in Peter, given his retail expertise and consistently high quality of work. Despite the low expectations for how the company would fare following his sudden death, Daniel was keen to meet with partners and lay to rest any concerns. His commitment and drive for the business' achievement won over clients, and have continued to do so to this day, as success keeps on coming.
In his short time as CEO, Daniel has already made significant progress for RMS staff. Ensuring the company recognises the effort and commitment of its staff, the pool of direct company employees has grown, and the firm have introduced the "RMS-First" policy which puts staff before anything else. All members of staff can now also access increased levels of benefits, with a massive focus placed on training and development to ensure everyone is at their best.
As part of his staff development plans, Daniel ring fenced significant spending for training purposes. Key staff have been enrolled on courses designed to enhance management and finance skills, and every officebased employee has a personal development plan to better see how their RMS career will benefit both themselves and the business. Taking his father's idea that staff are the company's most valuable asset, Daniel has expanded greatly on it and truly put his staff at the heart of the business.
Incredibly, Daniel's refreshing outlook on leadership earned him not just one, but two Institute of Director Awards in 2018, which was made even more special because Peter won the same award a few years previously. After Peter's passing Daniel had big boots to fill, and it is fair to say that he is certainly doing that.
Not just delivering for his inhouse workers, Daniel has also continued the growth of RMS as a business. Over the last few years, securing Sainsbury's as a multimillion-pound client has proven to be a major accomplishment, finally catching the one that got away from Peter for so long. As was also signing a contract with Boots, seeing the firm become involved in a nationwide revamp project in 400 stores.
One of the company's newest core values is that of innovation, as Daniel is determined to have RMS find better ways to do things. Sharpening their focus on the role that technology plays at the firm, they have invested heavily in developing a new end-to-end system, flex. The initial purpose of flex was to replace an archaic scheduling system. However, in December 2017, RMS supported several of their biggest retail partners at the busiest time of the year with replenishment support. In two weeks leading up to Christmas, RMS moved £500m of retail stock from storage to shop floor. Fundamental to this successful project was flex, and RMS's partners soon began having conversations about how this technology could suit their needs. It was a lightbulb moment; Daniel realised that with further development flex could be a force to be reckoned with, a true industry disruptor.
The core philosophy upon which flex is built is the idea that any company, regardless of size, should be able to find skilled, flexible workers to complete shifts and support projects. flex also aspires to make flexible working actually be that – truly flexible. Daniel wants workers to take control of their worklife balance, giving them the power and choice over when and where they work, because he understands that happy employees have such a positive effect on productivity.
Constantly evolving and innovating, flex has provided RMS with a more productive workflow, greater quality control, improved brand awareness, and reinforced positive relationships with partners. Once flex is launched, Daniel knows that other companies will reap these same rewards.
Instead of deliberating, idling and remaining fixed, the successes of both Daniel and RMS are down to the company's ability to do, innovate, and flex. With an expert team around him, including Chief Morale Officer Murphy the dog, Daniel has calmly steered the business through turbulent times into a future of financial prosperity. A business is only as good as its leaders, and therefore, this business is very, very good indeed.