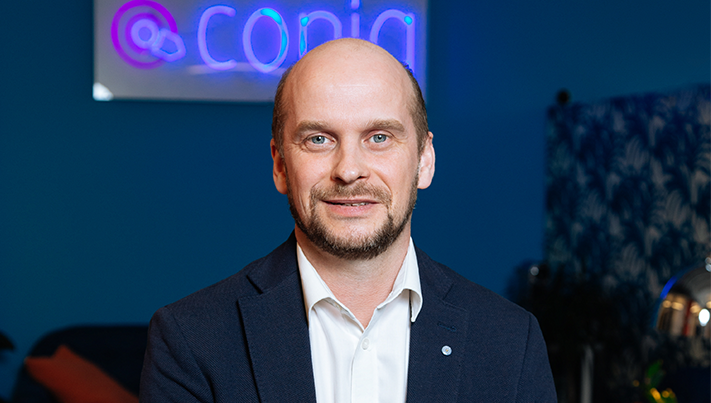 Coniq is Europe's leading CRM and Loyalty provider for retail destinations. In December, the firm's CEO and Founder, Ben Chesser, was named "CEO of the Year in Retail CRM & Loyalty Solutions" for 2018 by CEO Monthly Magazine. We spoke with Ben who took time out of his busy schedule to offer insight into Coniq's work and operations.
When it comes to global retail destinations, few firms have more of an influence on a mall's future success than Coniq. Through its best-in-class CRM solutions, they give clients a cutting-edge advantage, leading the way to a better understanding of consumer behaviours and, in turn, creating better shopping experiences. Coniq has levelled the playing field between the ecommerce and traditional retail sectors, offering a way to gain shopper insight in a way that had never previously been attempted in the offline market. That is the crux of Coniq's well-deserved and hard-earned success: Understanding customers is the cornerstone of the offline world's future success, revolutionising best practices and launching the industry into the modern technological age.
As Ben Chesser, the charismatic CEO of Coniq explains "Coniq is a dynamic, fast-growing PropTech business which already provides loyalty and CRM services in 16 countries. Put simply, our CRM platform allows shopping centres, outlets and business districts to introduce loyalty
schemes that gather data they have never seen before. For the first time, retail destinations can understand which customers are spending where, when and how much. Consumers spend $7 trillion in shopping centres worldwide and we provide our clients with actionable data on how customers are transacting in their locations."
"The insight we create not only benefits the landlord, but it also benefits the retailers; the data we generate can help them understand how they are performing versus their peers in the same location, and over the years we have built up excellent relationships with the brands – more than 1,000 retailers trust and operate the Coniq solution in their stores."
With clients that include some of the most respected names in retail, including; Value Retail, VIA Outlets, Unibail Rodamco Westfield, Compagnie de Phalsbourg, Neinver, and Meyer Bergman, Coniq have refined their product to meet some of the most demanding standards. More than that, they have excelled through their commitment to innovation and outstanding customer service.
Here, Ben takes a moment to comment on his company's approach to service and what it truly means to provide a seamless and robust service. "Our business is a SaaS model, which is supported by services that make us unique. We have a dedicated brand engagement team to help destinations source offers which provide rich content for loyalty customers. This team speaks over fifteen languages and is ready to deploy support to our clients at a moment's notice."
"In addition, Coniq have launched more loyalty programmes and developed more CRM strategies than any other provider in the retail space. This unrivalled experience means that clients often ask for our consulting team to help them create a programme that matches their business objectives; we consult, model and deliver everything ourselves, rather than using external agencies that lack the specialist knowledge about the sector."
More than anything, as Ben is quick to emphasise, Coniq's success has been driven by a passion to build the best CRM tool for retail destinations.
"Coniq is a totally product focused company. Ultimately, our main goal is to create the best possible tool allowing shopping malls to create great offline shopping experiences for their customers and create long-term, sustainable value for their assets."
This passion is evident across the entirety of Coniq's team. Their expertise and drive to succeed is one of the firm's strongest and most fundamental assets. "Our staff are everything – we have a fantastic culture at Coniq. I like to think of us as a community. Every Monday, we get the entire company together and share everything that is going on. We have that great combination of a relaxed atmosphere and a team that works incredibly hard to deliver for their clients and to build the best product we can."
When it comes to the future, Ben explained that Coniq is already planning to expand into new territories. "The plan for 2019 has three key themes; to continue to be a catalyst for data-sharing that improves the customer experience and adds value for retailers and landlords; to expand our client base in the full price sector; to secure a number of customers in key territories, such as the Middle East." Further, Coniq plans to utilise artificial intelligence to better find and understand shopping trends in a way that humans never could. It is clear that Coniq's future is defined by constant refinement and improvement, as they seek to become the definitive tool for modern retail.
Finally, on the subject of the challenges facing the retail industry as a whole, Ben talks about how Coniq's unique position in the market only increases their value in the years to come. "The challenges
we are seeing in the retail sector are precisely what makes Coniq's product even more relevant and an essential part of a centre's future success; Shopping centres are high-value real estate that are feeling pressure from online competitors, changing consumer habits and structural retail changes."
"Coniq helps malls identify and reward their most valuable customers, building engagement with the centre as a brand, and driving sales. In a competitive landscape, the retail destinations that gain first mover advantage in this space will create considerable value for their investors."