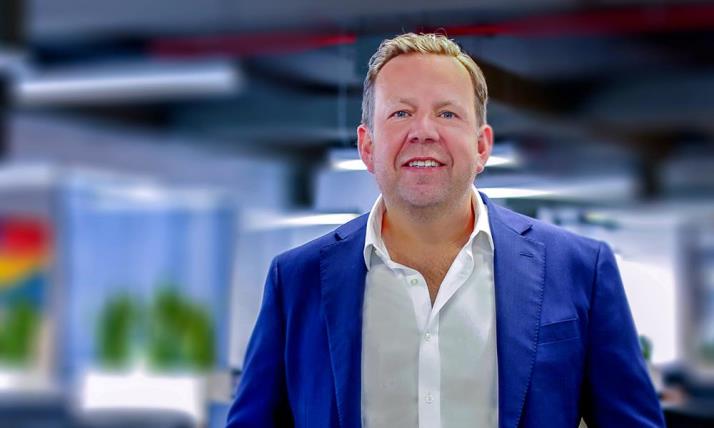 Established in 2008, Cavendish Maxwell is a highly-regarded independent firm of surveyors and property consultants, working across the Middle East and Africa. In June, Cavendish Maxwell's Chief Executive Officer, Nigel Armstrong, was named as the UAE's Real Estate CEO of the Year, in CEO Monthly Magazine's esteemed 2018 CEO of the Year Awards programme. On the back of this well-deserved achievement, we profiled Nigel to see how he has built the exceptional career he celebrates today.
Nigel Armstrong, who is well known in the UK for being a CEO with a rich history of operating and scaling businesses, talks about his latest undertaking at Cavendish Maxwell where his prowess has led him to be selected UAE's Real Estate CEO of the year 2018.
The firebrand Chief Executive of Cavendish Maxwell tells us why his firm is one of the most respected and reliable real estate consultancies in the GCC. We also delve into his experience before he took the reins of this young and dynamic consultancy, which has since helped him take the brand and the company above and beyond its projected growth.
Nigel has always been a proactive leader with a passion for developing and executing business plans. Starting his career with reasonable qualifications, he was eager to venture straight into the workplace and approached Pannell Kerr Forster, where he subsequently spent four years gaining hands-on experience in all disciplines of accounting. Simultaneously he also studied part-time to obtain professional qualifications in accounting, economics and business studies. After vital years spent in practice, working as a management accountant in the manufacturing industry and subsequently being headhunted to run a national transport and distribution company, aged 26, his experience gave him the platform to be engaged for the formation of Bannatyne Fitness Ltd, where he later became the group's CEO.
Nigel gained vast experience with the group, through his fundamental role in growing the number of health clubs under him from scratch to a portfolio reaching 37 clubs nationwide, additionally 14 children's day nurseries under the Just Learning brand, (which was later disposed off to Alchemy in 2001), in a very short period, which led him to become a prominent name in the health and leisure sector. Following months of due diligence, in 2006 he was instrumental in spearheading the acquisition of 24 health clubs from Livingwell, owned by Hilton International. As Managing Director during that time, Nigel carried out all negotiations for the deal. In his own words, "Being involved in the refinancing of the whole company to raise an additional circa £100 million for the acquisition was an immense experience to be so centrally involved with." This acquisition brought the total number of health clubs under him to 61, with over 30 additional day spas, reaching a membership base of 180,000. In addition to demonstrating confidence in the UK health sector, this deal was designed to give the chain stronger geographical presence in the UK, the group also boasting several hotels within the portfolio, both built and/or acquired during his tenure.
In 2014, as Chief Executive for the same group, Nigel's career encountered another defining moment, when he led the sale and lease back of the ground leases of 39 health clubs with M&G Investments, one of the world's leading investment management businesses. This sale was successfully agreed at an attractive yield enabling the company to pay down debt and facilitating its future expansion.
Nigel's stint at Cavendish Maxwell began in 2016 as CEO, exploring more opportunities and accelerating the company's already enviable growth trajectory. Under his leadership, the company has now expanded into new markets, increasing its workforce by 40% and revenue growth nearing 100%. When joining Cavendish Maxwell, he brought with him a strong managerial background with more than 25 years senior experience across a range of sectors including leisure, hospitality, spas, health clubs, children day nurseries, transport and manufacturing.
Nigel has proudly been named UAE's Real Estate CEO of the year 2018, a recognition of his ambitions during a time of high-level competition in the market, and the endeavour to move into new territories and expand service offerings in Muscat and Abu Dhabi, creating wider employment opportunities. Under his leadership, the company intends to continue this expansion and promote greater brand presence by entering into new markets and areas such as Saudi Arabia, Egypt, amongst others in the wider GCC and African territories.
Cavendish Maxwell was established in 2008, emerging in the financial storm, led by two business partners. Jay Grant, Founder and Chairman of the company, remains actively involved with an enviable vision and hunger, coupled with a desire for quality and success. The British run company has since become a regional powerhouse and one of the most influential voices in the real estate industry, leading the way in providing property consultancy services in the Middle East and Africa. As a RICS accredited property consultancy, Cavendish Maxwell offers a range of services within valuation, advisory and building consultancy services. The company arguably has the largest residential team in the region as well as an ever-expanding commercial valuations team.
Cavendish Maxwell completed more than AED 124 Billion worth of commercial and residential valuations last year and have already broken revenue records in the first half of 2018. The company's Investment and Agency team have been at the forefront of some of the region's largest deals. This summer they concluded a single transaction for over AED 700 million, which is believed to represent one of the largest ever deals in the Gulf. In addition to the company's strength in building consultancy, plant and machinery, research, development advisory, the company looks to focus on new service offerings and are excited to now embark on project management.
As Cavendish Maxwell celebrates its 10-year anniversary, the Chairman and CEO are working closely, dovetailing their individual skills, ensuring that the company goes through one of the most exciting phases in its history and eagerly look to help it expand exponentially, growing its network of chartered surveyors and property consultancy services across the GCC and Africa.
"Since joining the company in 2016, Nigel's strong managerial background and unique business insights have enabled us to not only navigate through challenging times in the industry, but also to significantly grow the company and expand our service lines. His keen market intuition combined with his ability to bring teams together to execute resultant opportunities has been fundamental to our recent progress. We have very exciting times ahead of us and I can think of no one better to lead Cavendish Maxwell through the next stage of the company's development," says Cavendish Maxwell Founder and Chairman, Jay Grant.
Empanelled and trusted by 40 banks in the Middle East, the name Cavendish Maxwell is synonymous with trust and reliability. Companies including Thomson Reuters, Bloomberg and MSN anticipate and publish all reports created in-house by Cavendish Maxwell, as the company continues to lead the way in informing the industry on trends and behaviours in the real estate market, through its data intelligence platform, Property Monitor.
Property Monitor is one of the major product lines that has grown under Nigel's leadership. Under his supervision and guidance, it has become one of the UAE's leading real estate and data analytics platform that was developed in response to a need for greater market transparency. The company introduced this platform in 2014 and it has since grown both in size and respect, becoming an industry praised, credible source of independent transaction evidence and market insight. Property Monitor is now a prominent platform in the proptech space and offers more comprehensive house price data, both public and proprietary, than anyone else in the market. The data and insight are available to the market in a fast-growing set of products and solutions: online and offline, out-of-the-box and customisable.
The drive that Nigel has demonstrated in acquiring, scaling and growing businesses from scratch throughout his career, has been replicated at Cavendish Maxwell. Looking ahead, as CEO of Cavendish Maxwell, he is determined for continual organic growth and employee development. Cavendish Maxwell have already had successful openings in Abu Dhabi and Muscat, with ambitions to cement the foothold in these areas and expand their presence into all the emirates; their next move will be into the wider GCC. With excitement at the prospect of exploring opportunities in Africa, Nigel expresses the undeniable interest in the Kingdom of Saudi Arabia, stating that KSA is an exciting market place and in honesty, too great a market to ignore.
For Nigel, motivation comes from success and achievement which occurs in many forms, from successful business expansion, profit growth to harnessing relationships. He believes success is also synonymous with a company working productively together, therefore he aims to bring focus and commitment to employees and takes great pride in developing staff and seeing their careers progress. In a position of leading and encouraging delegation within the company, he has always been fascinated in understanding what makes people tick and has used this tool to assess and motivate everyone within the organisation as an individual. A ground breaker, who leads his endeavors from the front, his key principle is to ensure the business has an open-door policy which creates full transparency and discussion amongst the company's departments and its employees. As well as being extremely driven and ambitious, Nigel encourages employees to continuously strive for positive results and industry-defining achievements. He has always focused on simplifying rather than complicating matters and this would be his advice for anyone trying to maintain a successful business.