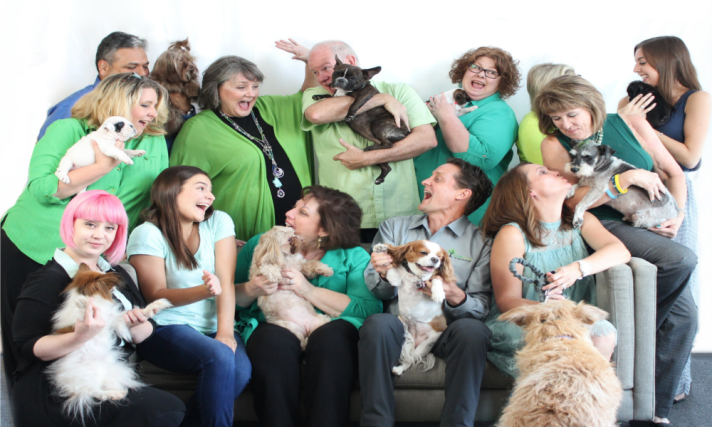 Roger Morgan is the Founder & CEO of pawTree®, a novel company he launched in 2014 that now has over 1,000 sales reps providing customized nutrition for dogs and cats, delivered right to pet parent's door. We profiled pawTree® business and spoke to Roger as we look to find out more about its services and its future.
pawTree® operates in the $69 billion pet industry within the U.S.A. The company possesses an amazing concept where the team provides customized nutrition for dogs and cats. Its flagship product is its pawPairings® Superfood Seasoning. People do not like to eat the same thing every single day, and neither do pets. However, many people feed their pets the exact same thing every single day. With pawTree® pawPairings, the parent pet can add variety at each meal by simply shaking on one of the seven varieties of pawPairings. Pets absolutely love it, and it is extremely healthy for them, offering vitamins, minerals, superfoods and antioxidants.
The other unique aspect to pawTree's business model is that they do not sell their products in retail stores. They sell only through word of mouth, through people they call, "petPros". petPros share pawTree® products with others within their social circles, and then earn a commission each time an order is placed. They call it, "Social Selling" and it's part of the $38 billion direct selling industry within the U.S.A. It's a perfect opportunity for stay-at-home entrepreneurs who love pets and want to earn a part-time or fulltime income.
Interestingly, Roger has recently served as Chairman of American Pet Products Association (APPA), while having formerly served on the boards of directors of PetSmart Charities and the Pet Industry Joint Advisory Council (PIJAC). Additionally, Roger holds an MBA from Harvard Business School, and a B.S. in accounting with a minor in music from Brigham Young University, graduating summa cum laude.
Roger provides us with an overview of the market that pawTree® operates in, as well as the company itself. He discusses how the company makes a difference to both pets and people, and that the emphasis is on improving lives, something which Roger feels the company is succeeding in with its aims.
"Some people mistakenly think pawTree® just sells pet nutrition. While it's true, we do offer amazing pet food, treats, and supplements for purchase, that's actually not 'what we do' and it's certainly not what inspires us. What we do is make a difference in the lives of pets and people, as well as share and promote happiness. Our vision and our mission are packed full of purpose. Our vision is to create a world filled with unconditional love, where pets and their people thrive. As for our mission, it is to make such a profound difference in the lives of pets and their people that they can't imagine going back to the old way.
"This is vital for us to show to others that we are not just selling pet nutrition, we are changing lives. Throughout the industry and the company, we are literally changing and improving the lives of pets and people. How do we do it? It all starts in the heart. This is a story of unconditional love, the love that pets give us so willingly and unconditionally, and the opportunity we have to give back to our pets, in ways that they cannot provide for themselves."
Walking us through his career milestones, Roger tells us a little about his education, his qualifications and how he has come to thrive in his role as CEO.
"From a young age, I knew I was going to be an entrepreneur. If there was something that could be sold door to door, I most likely tried it. As a young boy, I started mowing lawns in my neighborhood. Eventually in my late teens, I had built a business which involved mowing 50 lawns each week. This helped put me through college where I got a degree in accounting because I was taught that accounting is the language of business. Knowing that I wanted to run my own company one day, I felt that knowing the language of business would be important.
"A major inflection point in my career was getting my MBA from Harvard, where the education was fantastic. For two years, I honed my business problemsolving skills. The relationships were equally rewarding, from classmates to professors, some of my closest and fondest relationships were formed during those two years. After Harvard, I joined the Boston Consulting Group (BCG), where I gained business strategy experience and during my tenure at BCG, I optimized growth strategies for multi-national consumer goods and retail organizations, including nearly two years working abroad in Paris, France. I left BCG to join Retail Products Group (RPG), a pet products company where I served as President and CEO for seven years and more than doubled the business."
Thriving as founder and CEO of pawTree®, Roger explains more about his responsibilities as CEO, alluding to the fact that as CEO, he likes to lead by example and create a company culture in which employees are encouraged to reach their potential, and are happy to come to work.
"One of the greatest responsibilities I have as the founder and CEO, is to create a culture that will outlast all of us. This starts with hiring the right people, and then doing my best to lead by example to live the values that drive our culture. Also, I do my best to inspire each team member to perform to their highest potential. I think of myself like the conductor of the orchestra. Most of the time I don't play an instrument; rather, I motivate, empower, and inspire others to play their respective instruments to the absolute best of their abilities. Importantly, I must add that we have an extremely talented team."
Having been selected CEO of the Year by CEO Monthly, Roger tells us how it feels to be featured and comments on what attributes he believes he possesses, which have contributed to him being recognized in this role. It is his friendly and loving leadership style which has caught the eye, as well as his caring nature about both people and pets, in which he genuinely tries to make a difference.
"To be featured in this magazine and named CEO of the Year, I am honored and honestly feel so blessed and grateful to the many mentors and friends who have taught me and helped me to become the person and leader I am today. At pawTree®, we have five core values in our company that define our culture. The first of those values is 'Love'. Of course, we love pets, and we also love people. The team genuinely cares about people and treats all people with love and respect.
"In my experience, love is a longer-lasting and ultimately more powerful motivator than fear; however, love-based leadership does not mean it is always laughs and smiles or that people are not held accountable, but we stick together and help each other out. I genuinely try to base all my actions in love, and I try to reward, discipline, hold people accountable, and communicate all with love as my primary motivator."
Commenting on what he attributes to his own success, Roger explains what advice he would give to someone looking to make success similar to his own, while also giving a touching tribute to a mentor who inspired to him to succeed in business.
"Regarding what advice I would give to someone else looking to create a successful career, I would say surround yourself with great people; great mentors to help you continually learn from those who have gone before you. Also, surround yourself with a great team who you can depend on through the ups and downs of building a business.
"One of my greatest business mentors is a man named Bart Schillaci. He touched my life profoundly and I wrote a business leadership book based on the principles he taught me. The book is called ' One Man's Influence '."
In his concluding comments, Roger predicts what the future holds for both himself and pawTree®. He tells us what plans and projects are in store for the company, citing potential growth all over the U.S.A, while keeping an eye on potential developments in other countries which may see pawTree® expand.
"Lastly, in the first four years of business we have more than doubled nearly every year and we have over 1,000 petPros (sales reps) in all 50 states in the U.S. Plus, as a company, we still have enormous growth potential in the U.S. and also have plans to launch in many other countries. At the moment, we are at the beginning of a very exciting journey to build this incredible vision. We are literally changing the lives of pets and people, and that's very important to me at this stage of my life and my career because I strive each day to live a purpose-driven life, and I intend to dedicate the rest of my life to helping people find more love in their life. That's what we do at pawTree® every single day—help people feel love, which I believe is the key to happiness."
Company: pawTree®
Contact: Roger Morgan
Contact Email: [email protected]
Address: P.O. Box 92902, Southlake, Texas, 76092, USA
Web Address www.pawtree.com