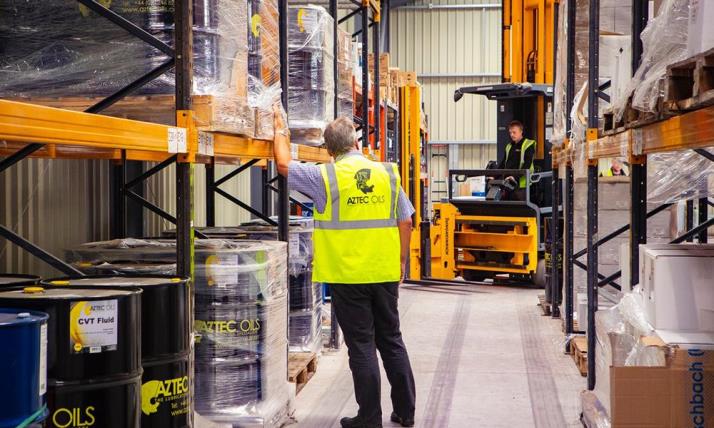 Established in 1995 by Mark Lord, Aztec Oils is a distributor of lubricating oils for the automotive and industrial market within South Yorkshire and the East Midlands. In June, CEO Monthly Magazine named Mark as one of our CEOs of the Year for 2018, with the title of Most Outstanding in Manufacturing. We spoke to Mark to find out how he has built Aztec Oils into one of the leaders of the industrial sector.
Mark has always had an eye for business, building his career on the back of an expertise in the lubrication markets, he has been the driving force behind Aztec's position as one of the UK's leading specialists in high performance lubricant manufacture and distribution. His outstanding leadership has transformed Aztec Oils from a one-man band, to a European tour-de-force. Mark attributes the company's enduring success to teamwork, and a trusting partnership with his managerial team, "The key to our growth and the company's success is a result of teamwork, and allowing management to take ownership of their own areas of responsibility."
Mark continues, "We operate a very informal non-hierarchical framework where all operatives are made to feel part of one team pulling together. Good communication is key throughout the organisation with the different departments coming together on a regular basis to pre-empt any problems."
Mark sums up his role in the business as something akin to a guide, leading the team from the front with his years of experience in the sector, "my role is to advise and allow them to take ownership of their own decisions."
This leadership style stands, foremost, as testament to Mark's ability as a CEO. He has created a team, from the ground up, who are competent, capable and highly trained. When we asked Mark what advice he would give to someone looking for success in their business, he echoed similar sentiments, "with the right people around you can do anything. Find the right people, look after them and don't let them go."
"My key managers take responsibility for their own areas of the business. My role is to advise and allow them to take ownership of their own decisions."
Over the coming years, in light of a possible Brexit, Mark is moving to protect his business; early in 2018, Aztec Oils made a strategic purchase of Netherlands-based Oil-Water Treatment (OWT) Services, a global oil field chemical services company. In many ways, this is the perfect encapsulation of Mark's leadership. From the very start, Mark has steered Aztec in smart directions, seeing opportunities for sustainable growth in emerging markets. Mark explains his process for developing Aztec, "the company successfully grew from buying packed product to bulk introducing our own filling lines. The next phase saw the company move to blending their own products, investing heavily in plant equipment and developing a sophisticated analytical laboratory to maximise our ability to utilise the widest range of raw materials." In a nutshell, Mark wanted Aztec Oils to "offer a first-class service to local companies working on the
principle that customers would get so reliant on our service they wouldn't go elsewhere."
Ultimately for Mark, the key to Aztec's enduring success is a simple one; "The key for me was always to be in a position to offer the most competitive product in the fastest possible time. Inevitably, this led to developing a capability to manufacture the whole range of products we sell." For their many clients, Aztec Oils offers – simply- an irreplaceable service.
Contact: Mark Lord
Company: Aztec Oils Limited
Intake Road, Bolsover Business Park, Bolsover, Derbyshire, S44 6BB, UK
Telephone: 01246 823 007
Web Address: www.aztecoils.co.uk